The Times Spins for Kamala Harris

August 12, 2020 at 8:22 am

The New York Times greets the selection of Kamala Harris as Joe Biden's running mate with three above-the-fold front-page articles, and all three offer an assessment of her ideology.

The lead Times news article describes her as "A pragmatic moderate who spent most of her career as a prosecutor."

A "news analysis" (as if the other articles are analysis-free) reports that Biden and Harris are "two moderates with relatively cautious political instincts."

And a profile of Harris describes her as "cautious on substantive issues more often than many liberals would like."

Continue Reading
A New York Times article about how Harvard is treating its students, particularly first generation and low income students, during the pandemic reports: "some scholars say a fundamental tension remains between the school's explicit mission in the first centuries of its existence — to reproduce the white gentry by educating its sons — and its stated role now, as a beacon of diversity and democracy where a prestigious education is available to any and all who merit acceptance."
The Times doesn't name any of these "scholars." Just for the record, though, it is not accurate that the school's "explicit mission in the first centuries of its existence" was "to reproduce the white gentry by educating its sons."

Continue Reading

Times News Article Minimizes Church Arson

June 4, 2020 at 10:44 pm

A New York Times news article headlined, "Trump and Aides Try to Change the Narrative of the White House Protests" begins:
WASHINGTON — President Trump and his aides spent much of Wednesday trying to rewrite history, claiming that Mr. Trump was merely "inspecting" a bunker last week during riots over the death of George Floyd and insisting falsely that peaceful protesters near the White House were attacking the police when the authorities used chemical agents to make them move so that Mr. Trump could have his picture taken at a nearby church.
Eventually the Times gets down to explaining what the White House "rewrite" of the history of the "peaceful protesters" amounts to. The White House press secretary, Kayleigh McEnany, the Times reports, "cited the fact that St. John's, where Mr. Trump posed for the cameras, 'was burning' the night before."
The Times news article corrects McEnanay on that point: "In fact, there was a relatively small fire in the basement that was quickly extinguished."
Glad they cleared that one up!

Continue Reading
A front-page Times news article reports about comments by President Trump about U.S. Supreme Court justices:
Weighing in on a domestic matter as he began a day of ceremony, meetings and a joint appearance with Prime Minister Narendra Modi of India, Mr. Trump seized on a dissenting opinion last week by Justice Sonia Sotomayor and a years-old comment by Justice Ruth Bader Ginsburg to demand that the two Democratic-appointed jurists recuse themselves from any cases involving him.
The "years-old" part of that made me chuckle, particularly as Vice President Biden has made assailing Trump's years-old comments about a Charlottesville, Va., racist march a key part of his presidential campaign. The Times regularly trots out "years-old" comments as a way to criticize men targeted in the me too movement, without so heavy-handedly dismissing them as such. It seemed like the Times was saying there's some sort of especially short statute of limitations that applies to comments made by Justice Ginsburg.

Prince Sulzberger Praises Meghan and Harry

January 11, 2020 at 10:50 pm

The New York Times — currently published by A.G. Sulzberger, the sixth member of the Ochs-Sulzberger family to control the paper since Adolph Ochs acquired it in 1896 — has an editorial headlined "Good for Meghan and Harry," asserting that "The Duke and Duchess of Sussex are right to blaze their own trail." The editorial praises them for "renouncing some level of privilege to seek their fortune in the real world," noting their plan "to become financially independent." It described them as having been "trapped in a gilded cage."

It'd be interesting to see the Sulzberger family members who are now laboring in the family business follow Meghan and Harry's example of renouncing privilege to seek their fortune in the real world. The parallel move would be for A.G. and his cousins to quit the New York Times and go work at, or start, another news organization or media company. "Blaze their own trail," indeed.

Continue Reading
The print New York Times greets "Black Friday" with a printed gift guide claiming inaccurately that the price of a Le Creuset Dutch oven is $77.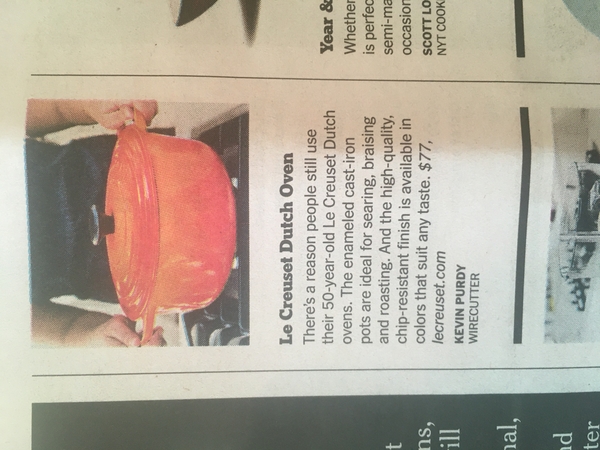 It's almost enough to make a reader think that the gift guide is being edited by someone who hasn't shopped for a Dutch oven. I thought maybe this was a typo and someone had just left off a digit—maybe the price is $377, or $277. But the lecreuset.com website that the Times cites has the prices all ending in round numbers — $325, $200, etc.

Continue Reading

Sulzberger-Provided Advice on Giving Away a Trust Fund

November 24, 2019 at 10:47 pm

The New York Times Magazine "tip" column this week is headlined "How to Give Away Your Trust Fund."

"Don't ignore a feeling that you have more than you need," the column advises, describing a woman who "spent years feeling ashamed, when even her closest friends didn't know she had a trust fund."

It's something for a newspaper published by the sixth member of the Ochs-Sulzberger family to control the paper—a newspaper that itself is controlled by something called The 1997 Trust—to go around advising other families that, as the magazine article quotes someone saying, "we're all going to die from climate change anyway," so you might as well "redistribute" your money to "social-justice organizing led by people most impacted by oppression."

Continue Reading

The Times Versus the Book Industry

October 30, 2019 at 6:56 am

Under the headline "Tip of the Week," under the overall headline "Smarter Living" Monday's print New York Times carries an article claiming "Creating the right money habits is crucial to reaching a financial goal." The article, by Kristin Wong, says, "Let's say your goal is to stop spending money on restaurants, clothing, gadgets and books this year." It advises taking the goals one month at a time.

Does the Times really want to help readers stop spending money on books? Its pages are full of advertisements for books and reviews of them. Its reporters are often off on book leave writing them. It seems inconsistent. Think of all the books one could afford and all the time one might have to read them if one created "the right money habit" by stopping spending money on newspapers.

"The Democratic field has a top tier of four white candidates, three of them men," the New York Times reports on its front page today atop a long news article. The "four white candidates" the Times has in mind are Biden, Sanders, Warren, and Buttigieg.

Continue Reading

The Times Magically Makes Taxes Disappear

October 5, 2019 at 8:58 pm

The New York Times has a long article online and in print headlined "The Middle Class-Crunch: A Look at 4 Family Budgets."

There are "Lauren and Trevor Koch," whose "Monthly take-home pay" is $4,000, and whose monthly expenses, according to the Times, total $3,232 including:

Rent on a two-bedroom house, $600

Groceries and dining out, $800

Student loans, $550

Transportation, $484

Credit card debt, $340

Utilities, $212

T-Mobile cellphone service, $100

YMCA family membership, $63

Diapers, $60

Savings, $25

and there are "Mike and Lindsey Schluckebier," whose "Monthly take-home pay" is $8,500,

and whose expenses, according to the Times, total $7,047 a month, including:

Mortgage on a three-bedroom house, $2,060

Retirement savings, $1,000

Groceries and dining out, $700

Afterschool care, $360

Health insurance, $265

College savings, $200

Utilities, including internet, $178

One car, $125

Continue Reading

New York Times Editorial Takes on Legacy College Admissions

September 8, 2019 at 10:57 am

The New York Times has a staff editorial calling on federal and state governments to push colleges to end preferential admissions treatment for children of alumni.

"Preferential treatment for legacy admissions is anti-meritocratic, inhibits social mobility and helps perpetuate a de facto class system. In short, it is an engine of inequity," the Times editorial says. "Continuing to give applicants an advantage simply because of where their parents went to school is, as one critic called it, 'a form of property transfer from one generation to another.'"

The humor here is in the Times denouncing, as obviously unfair, "property transfer from one generation to another." From the New York Times' own news article about the naming of A.G. Sulzberger as publisher: "A. G. Sulzberger will be the sixth member of the Ochs-Sulzberger family to serve as publisher since its patriarch, Adolph S. Ochs, purchased the paper in a bankruptcy sale in 1896."

Continue Reading

NYT Nostalgic For East German Communism

September 4, 2019 at 10:03 pm

From a "Times Insider" account by Katrin Bennhold that appears in the Times under the clickbait headline "A Once-in-a Lifetime Reporting Dilemma: Should I Take My Clothes Off?":
Nudism, I discovered, was not just a quirky lifestyle choice. For many people from the former Communist East, it is among the cherished traditions that have faded somewhat since the Berlin Wall fell. Nudism had been a mini-rebellion against a Communist dictatorship, and it also represented the egalitarianism that now makes some Easterners nostalgic.

"There wasn't the social jealousy there is today, because no one was rich and nurses and engineers were paid the same," said Thomas Bandelow, a 40-year-old teacher swimming farther down the beach. "In an economy of scarcity, everyone is equal."

Nudity, too, is a leveler. And it, too, was changed by reunification.
In other words, everyone had to line up for the bananas when they were available in East Germany. But everyone could afford them.

Continue Reading
The front-page New York Times news article about protests in Hong Kong begins, "HONG KONG — Anti-government protesters clashed with Hong Kong riot police on Tuesday, crippling the airport for the second straight day and targeting a potent symbol of the city's position as a global center of commerce and finance that is essential to China."
Anti-government isn't the correct word here, unless the Times plans to start using it to describe, say, anti-Trump protests here in the U.S. The protesters aren't anarchists, at least so far as I can tell from other news coverage. They just oppose the policies that the Chinese Communist authorities are pursuing in Hong Kong, in violation of the liberty of the people who live there and in violation of the one country, two-systems agreement by which Great Britain turned authority in Hong Kong over to China. Instead of describing the protesters as "anti-government," why not describe them as "pro-freedom" or "pro-democracy" or "pro-rule-of-law."

Continue Reading
The second paragraph of a news article on the front of the business section of today's New York Times reports, "Mr. Trump has long carried on a one-sided feud with Jeff Bezos, Amazon's founder, over some of the company's business activities and also over what the president refers to as 'The Amazon Washington Post,' though Mr. Bezos owns the newspaper personally, not as a corporate asset."
"One-sided"?
The Bezos-owned Post constantly depicts Trump in the most sensational terms as a threat to democratic norms, and Trump defends himself, and the Times sees it as a "one-sided" feud? Come on.

Continue Reading
An anti-Semitic cartoon published by the New York Times is the topic of a piece I wrote for the Algemeiner, and a second follow-up piece. I occasionally wonder if the time I spend criticizing that newspaper for its coverage of Israel and Jewish issues is worth it; these sorts of situations, in which even the vice president of the United States is marking the problem, the Times itself is apologizing, and a columnist of the Times is faulting his own newspaper for mainstreaming anti-Zionism, help to provide some validation on that front. At least I saw where this was headed, or what was involved.