An article in the business section of the New York Times about a settlement with the Justice Department by a unit of Berkshire Hathaway includes this paragraph: "Reached by phone, Debbie Bosanek, assistant to Warren E. Buffett, Berkshire's owner, said: 'There's no one here available for interviews.'"
Buffett is the CEO and Chairman of Berkshire Hathaway and a significant shareholder. But Berkshire is a publicly traded company, so it overstates it past the point of inaccuracy for the Times to write it they way they did. It's worth correcting: "CEO and chairman is Warren Bufett's title at Berkshire Hathaway, which is a publicly traded company in which Buffett is a significant shareholder. A business section article incorrectly characterized him as the 'owner.'"
In a Bret Stephens-Gail Collins "The Conversation" column, discussing possible Democratic alternatives to Joe Biden in 2024, comes this passage:
Gail:...Along with the rest of the world, I don't think there's much to be said for Kamala Harris. You?
Bret: She's ... a Democratic version of Dan Quayle. I'm also not too keen on California's Gavin Newsom...
From the "I'm also not too keen on," I gather that Stephens considers "a Democratic version of Dan Quayle" to be somehow disparaging. But "a Democratic version of Dan Quayle" could also be read as, well, as the promotional copy for the 1992 book by David Broder and Bob Woodward put it, "possesses much more savvy than his many detractors are willing to admit."

I'm not a Kamala Harris fan either, but Quayle was underestimated. He gave Mike Pence some good advice during the crisis at the end of the Trump administration, and he's always been solid, a leader even, on the missile defense issue. He had good staff in Bill Kristol. Quayle deserves better treatment than this cheap shot!

Follow the News Without Spiraling into Despair

July 11, 2022 at 9:02 am

"How to Follow the News Without Spiraling into Despair" is the headline over a New York Times article advising readers that following the news "can become overwhelming" and that "it's understandable to feel sad, angry and anxious."

It's the timing of these sorts of articles that is always a giveaway of what Times editors are thinking (or of what they think their readers are thinking). With the Supreme Court overturning Roe v. Wade, reinforcing the right to bear arms, and issuing a couple of rulings protecting the free exercise of religion, and with polls and projections showing Republicans poised to take control of at least the House of Representatives in November's election, at least some conservatives are not "sad" or in "despair," but happy.

Continue Reading
A news article linked from the NYTimes.com home page carries the headline: "Some Surprising Good News: Bookstores Are Booming and Becoming More Diverse."
The diversity the Times is talking about is racial diversity ("many of the new stores that opened during the pandemic are run by nonwhite booksellers"), not ideological or viewpoint diversity, which could partly explain why the Times drops the convention of journalistic neutrality and opens the headline with instructing readers that this is "Good News." On other topics the Times mostly at least attempts to pretend simply to deliver the news and defer to the readers to decide for themselves whether the news is good or bad. We don't see, for example, "Some Surprising Bad News: A Mass Shooting at a July 4 Parade."

Continue Reading

U.S. Rule Risks Battery Supply Chain

June 21, 2022 at 5:49 am

"U.S. Rule Risks Disrupting Global Battery Supply" is the front-page print headline over a Times news article. It's a strange headline, as what's really risking disruption to the global battery supply isn't the "U.S. Rule" but the Chinese genocide. The print headline treats Chinese behavior as immutable and U.S. policy as malleable. The online Times headline, "Red Flags for Forced Labor Found in China's Car Battery Supply Chain," is better. When there's that big a divergence between the print and online headlines, it's generally an indicator that one or the other is poorly crafted.

Continue Reading

New York Congressional Primary

June 19, 2022 at 9:18 am

Toward the end of a front-page Sunday Times news article about a Democratic congressional primary in New York City that has attracted 15 candidates, including Liz Holtzman, Mayor de Blasio, and Daniel Goldman, comes an extended discussion of how the timing of the election might affect the outcome:
It is also difficult to gauge how many voters will be in the district in late August, when the city gets torrid and all those who can, leave town. Matthew Rey, a prominent Democratic consultant who is unaffiliated with any of the campaigns, estimated voter turnout could be between just 70,000 and 90,000 in a district of 776,000 residents....

Given the overcrowded field and the late summer election date, the race is hard to pin down.

Last week, after dropping off his two children at school in Windsor Terrace, Brooklyn, Nicholas McDermott said he would absolutely consider voting for Mr. de Blasio.
"I think it's great to have someone with experience who's from the area," Mr. McDermott said.

Continue Reading
From an article in a special Sunday design section, about a family that moved to Vermont from Los Angeles:
After looting broke out near Mr. Costey's Santa Monica studio in May 2020, he rushed to save his most valuable equipment by loading it into his car. It was around that time that living in the city "just kind of stopped being fun," he said. "We were, like, 'What are we doing here?'"
That's interesting that there was looting in Santa Monica, California in May 2020. The New York Times didn't pay much attention to it at the time, describing instead "peaceful protests" over the death of George Floyd. I searched the archives and did find a Times "California Today" newsletter dated June 1, 2020 that did say "Many of the demonstrations started peacefully and became violent, with widespread looting" and that "while many peacefully marched in Santa Monica and Long Beach, looters ransacked department stores and smashed windows."

Continue Reading
The New York Times business section features a news article headlined "How Russian Media Uses Fox News to Make Its Case." It reports, "Russian media has increasingly seized on Fox News's prime-time segments, its opinion pieces and even the network's active online comments section — all of which often find fault with the Biden administration — to paint a critical portrait of the United States and depict America's foreign policy as a threat to Russia's interests."
The article features "four ways Russian media has used Fox News to bolster the government's narrative about the war," including "criticizing President Biden."

Continue Reading
A New York Times news article about a policy agenda drafted by moderate House Democrats includes this passage:
One measure included in the agenda appears to accept the Republican talking point that the coronavirus was created in a laboratory in China, then covered up by the World Health Organization — assertions that have been challenged repeatedly by scientific researchers.

The Never Again International Outbreak Prevention Act, by Representatives Brian Fitzpatrick, Republican of Pennsylvania, and Conor Lamb, a centrist Democrat running for the Senate in Pennsylvania, "would provide accountability with respect to international reporting and monitoring of outbreaks of novel viruses and diseases, sanction bad actors and review the actions of the World Health Organization."

Continue Reading

Instead of acknowledging a mistake and publishing a correction, the New York Times has stealth-edited the inaccurate phrase "Newton and Boston, about 10 miles apart" so that it now reads "Newton and Boston, with downtowns about 10 miles apart." That's still not accurate. There's no such thing or place as "downtown" Newton. Newton is a suburb made up of 13 villages, none of which is "downtown." Instead of defensively stealth-editing this a second time, the right move here for the Times would be to simply publish a correction acknowledging that the two cities are adjacent. The newspaper's failure to do this is a sign of a combination of arrogance and a newsroom culture that holds "corrections are bad and mean you did something wrong and will get in trouble, a kind of black mark on your record" rather than "mistakes sometimes happen, it's part of the process, and we'd much rather make it right than compound the error by legalistically or defensively refusing to admit the possibility that we are anything less than perfect." At least run the correction by someone who lives in Boston or Newton or who pointed out the original mistake to make sure that the change makes sense rather than introducing a second error. The Times hires so many people from the Boston Globe that talent retention is a serious business problem for the Globe, so you'd think that there'd be no shortage of people at the Times who might be able to help with this.

A Times news article about school mask mandates reports, "Newton and Boston, about 10 miles apart, give an idea of how two politically liberal and cautious districts are approaching the choice — and how and why they may come to different decisions."

It's not accurate that Newton and Boston are "about 10 miles apart." They actually directly border each other in at least two places—the Boston neighborhood of West Roxbury and the Newton neighborhood of Oak Hill, and the Boston neighborhoods of Brighton and Oak Square and the Newton village of Newton Corner. The Massachusetts Secretary of State has a map (pdf) of the cities and towns in the commonwealth that shows Newton and Boston are adjacent. If you are headed east on the Massachusetts Turnpike, you pass directly from Newton into Boston.

Darren Walker and a San Francisco Museum's New Director

February 10, 2022 at 8:53 am

An arts section report on the naming of Christopher Bedford as director of the San Francisco Museum of Modern Art includes this passage:
Darren Walker, the president of the Ford Foundation, who has led the charge on diversity issues, said he felt comfortable with the selection of Bedford. "While I'm disappointed that a diverse candidate wasn't chosen," Walker said in a telephone interview, "no museum leader is more committed to diversity than Chris Bedford."
What is Darren Walker doing in this article? He's not on the board of the San Francisco museum. The Ford Foundation isn't a major funder of the museum. Anytime a white male gets named to any job anywhere, the New York Times article about it is now going to include a quote from Darren Walker passing judgment on whether it's acceptable?

Continue Reading
Casual accusations of racism are not usually my thing. But to see, in the New York Times, which makes a big public show of being antiracist, a photo of three people with the two white people identified by name in a cutline and the black person not only not named but just totally ignored, treated as if he is invisible or nonexistent, is the sort of thing that I had hoped wouldn't happen anymore. It's disappointing. The photo runs with an obituary of basketball coach Bill Fitch.
The print cutline says, "Bill Fitch, center, during practice with the Boston Celtics in May 1981. Kevin McHale was at right."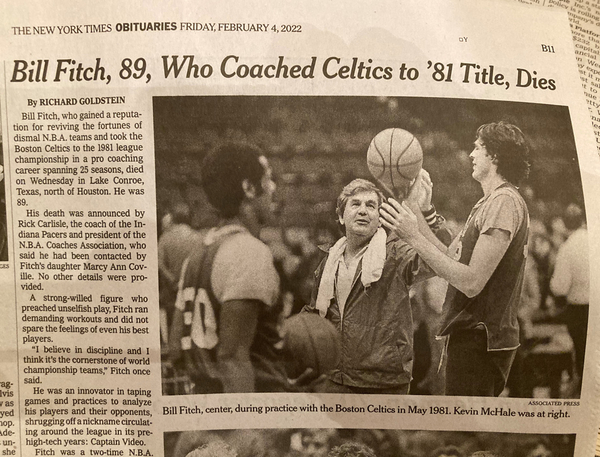 The online cutline says, "Bill Fitch, center, during practice with the Boston Celtics in May 1981 as they prepared to meet the Houston Rockets for the N.B.A. championship series. Boston went on to beat Houston in six games. Kevin McHale was at right."

Continue Reading

Times Refers to "Unborn" Children

January 23, 2022 at 1:31 pm

From a New York Times magazine article headlined, "Trump's Dream of a Border Wall, Twisted Into a Sci-Fi Nightmare" (yes, more than a year into the Biden administration, the Times is still having, or stoking, Trump nightmares):
As of 2015, for instance, a video game called Border Patrol had been played more than 12 million times on the website NerdNirvana. A rudimentary first-person shooter, Border Patrol invited players to place their cross hairs on three different kinds of cartoon characters: a "Mexican Nationalist" wearing a bandoleer, a tattooed "drug smuggler" in a wide sombrero and a pregnant "breeder" holding two children by the hands, one wearing a diaper, the other a little sombrero. The backdrop showed a river cutting through a cactus-dotted desert. The players' job was to shoot these brown-skinned characters as they tried to cross the river; each kill was recorded with a bloody splat. The "breeder" was worth more points, presumably because you also killed her children, born and unborn.

Continue Reading

Weddings Editor Aims to "Normalize" Unwed

January 12, 2022 at 6:25 am

The New York Times has published a question and answer style interview with Charanna Alexander, who in May 2021 was named "weddings editor" at the newspaper:
Do you have any other goals for the section?

Continue Reading