Judge Jed Rakoff's discussion of why prosecutors have avoided criminal charges against those responsible for the financial crisis is the topic of a news article in today's Times by Adam Liptak. Mr. Liptak frames the story as follows:
Judge Jed S. Rakoff wants to know why. In a blistering essay in the issue of The New York Review of Books that arrives this week, he argues that the Justice Department has failed in its rudimentary responsibilities, offering excuses instead of action.
That makes it seem like the Times is ahead of the story, or at least on top of it — "arrives this week."

Continue Reading

Rothstein on the National Archives

December 17, 2013 at 10:49 am

One of the bright spots in the Times is Edward Rothstein, who does a fine job of criticizing a new exhibit at the National Archives for being too critical of America. I don't know how he manages to get this stuff in the paper, but he does, and I enjoy reading it.

Orin Kerr Says He Was Misrepresented

December 17, 2013 at 9:49 am

A professor at George Washington University law school, Orin Kerr, says the Times mischaracterized both his position and his remark about Judge Leon. Professor Kerr writes on the Volokh Conspiracy web site:
A New York Times story out on Judge Leon has me quoted as saying:

"He's very passionate," said Orin S. Kerr, a professor at the George Washington University Law School and a defender of the N.S.A.'s surveillance programs, who said he found the judge's ruling short "on legal reasoning."

Continue Reading

Bad Moments in Photo Selection

December 17, 2013 at 9:39 am

"Top Candidate for a Post at Europe's Central Bank Is a Woman" is the headline the Times business section runs over an article by Jack Ewing, the male Times reporter last seen airbrushing the Faber-Castell company's World War II history.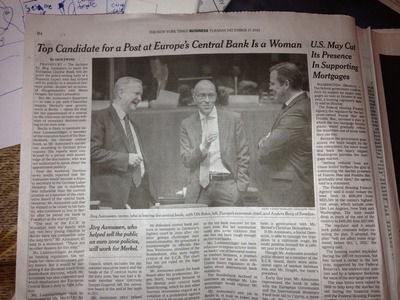 Leaving aside the totally pertinent question of whether Sabine Lautenschlager's gender is the most newsorthy thing about her, one has to wonder about the decision to illustrate an article with that headline with a photograph of three men. The Times Web site does have a photo of her, if you are curious.

Continue Reading
The Times editorial about its five-part series on Dasani, a poor child who lived for three years with her two parents and seven siblings in one room of a fetid Brooklyn homeless shelter, offers a narrow view of possible solutions: "rental subsidies." The editorial concludes, "That's a good start, but more is needed, including from Gov. Andrew Cuomo, who can aid that effort by ponying up money for the subsidy program as well as for services that save poor people from eviction."

Continue Reading
The Times takes its inequality campaign to the campaign for increased regulation of tobacco. From a front-page news article that runs under the headline "Tobacco Firms' Tactics Limit Poorer Nations' Smoking Laws": "tobacco opponents say the strategy is intimidating low- and middle-income countries from tackling one of the gravest health threats facing them: smoking."
What "poorer nations" is the Times talking about?
From the article:
Dr. Margaret Chan, director general of the W.H.O., said in a speech last year that legal actions against Uruguay, Norway and Australia were "deliberately designed to instill fear" in countries trying to reduce smoking.
Norway and Australia aren't exactly low-income or poor countries. The Times summons up a few others — Namibia, Gabon, Togo, and Uganda. It reports:

Continue Reading
From an article in the Home section of today's Times about a reporter's overnight stay in Philip Johnson's New Canaan, Conn., Glass House: "Tours of the house run from May through November; beginning at 9 in the morning, they end at 5 and typically top out at just over two hours."
That is a sentence that could have benefitted from some editing. If the tours begin at 9 in the morning and end at 5, it sounds like they last eight hours, not two hours. It sounds like what the writer is trying to communicate is that the tours take about two hours and begin on the hour starting at 9 a.m. and ending at 3 p.m. (or something like that).
It's not clear why the Times chose to run this article in December, when the house can't be toured until May. It looks like the place is also open for tours from 5:30 to 8 p.m. on Thursday evenings during that season, so it's not even clear that the Times claim that the tours "end at 5" is even accurate.
From Chapter Four of the five-part series on Dasani, the child who lives with her parents and seven siblings in a fetid Brooklyn homeless shelter:
Three days later, it is raining as the children spill down Sherry's steps. They are hungry and short on sleep. In theory, they are heading to the thing they most need — psychotherapy. Chanel signed them up after learning that she can reap $10 per child in carfare through Medicaid, at a clinic in the Kensington section of Brooklyn.
I don't doubt that these children might benefit from psychotherapy, but is it really "the thing they most need"? I'd argue that, even more than psychotherapy, they need a better place to live. They could also probably use, more than psychotherapy, higher-functioning parents, but that's harder to make happen. Anyway, it's a kind of classic New York Times editor worldview that of all the things that a child like Dasani and her siblings need, 'the thing they most need" is psychotherapy. Sign the kids up for the Times staff health insurance plan!
From an otherwise interesting Andrew Ross Sorkin column about how Nelson Mandela moved toward capitalism:
But for all of Mr. Mandela's embrace of capitalism and free markets, as demonstrated though his policy called GEAR (Growth, Employment and Redistribution), the results raise more questions than answers about its success.

South Africa has certainly grown, but at an annual 3.2 percent clip from 1993 to 2012, far below other emerging countries like China and India. And the gap between the haves and have-nots is now higher than it was when Mr. Mandela became president. Inequality in South Africa is a real and growing issue.
Only when defined in the most narrow economic terms, as the Times, alas, tends to do.
You wonder how the Times would have covered the exodus from Egypt: "True, God parted the Red Sea and brought the Children of Israel out of Egypt. But after slavery ended, the gap between haves and have-nots started to widen and become a real and growing issue..."

Continue Reading
It's hard not to be moved by the deeply reported story of Dasani, an 11-year-old who lived for three years with her parents and seven siblings in a single room of a fetid homeless shelter in Fort Greene, Brooklyn.
Yet the Times takes a story of poverty and turns it into something else — an ideological axe-grinding piece that seeks to fit Dasani's story into what Times editors have promised will be "a new focus on inequality" to match the agenda of the city's mayor-elect Bill de Blasio.
So the Times article includes passages like this:
she belongs to a vast and invisible tribe of more than 22,000 homeless children in New York, the highest number since the Great Depression, in the most unequal metropolis in America.

Continue Reading
The New York Times news article about President Obama suddenly acknowledging that he had lived with his illegal immigrant uncle manages, oddly, to avoid describing the uncle as illegal. The Boston Globe provides a much more straightforward account:
His uncle had lived in the United States illegally since the 1970s and revealed for the first time in testimony that his famous nephew had stayed at his Cambridge apartment for about three weeks. At the time, Onyango Obama was here illegally and fighting deportation.
There was something off about the front-of-the-business section profile of the Farber-Castell pencil company and its chief executive, Count Anton-Wolfgang von Faber-Castell, that ran in the Times this week.
For one thing, while the article went into the German company's history in some detail — "Faber-Castell was founded by Kasper Faber, a carpenter's apprentice. His great-grandson Lothar Faber was given noble status in 1861 by King Maximilian II of Bavaria after building the company into the world's dominant pencil maker. Later generations intermarried with the aristocratic Castell clan, creating the Faber-Castell name" — it omitted any mention of the company's history during World War II. From an article in the Telegraph earlier this year:

Continue Reading
A front-page New York Times article about Mayor-elect Bill de Blasio and his wife Chirlane McCray reports:
It was Ms. McCray, after all, who selected the symbolically rich location for Mr. de Blasio's speech announcing his candidacy: the yard in front of the family's humble rowhouse in Park Slope.
Humble? The Real Deal reports that Mr. de Blasio "owns a pair of two-family homes on 11th Street in Park Slope that are valued at more than $1.1 million apiece." You can bet that if Mr. de Blasio were a Republican calling for tax cuts instead of a Democrat former Sandinista activist calling for tax increases on the rich, the Times would be referring to his real estate holdings not as a "humble rowhouse" but as a "luxury townhouse."
The ambitious and lengthy New York Times series by Elisabeth Rosenthal on health care pricing has been illuminating and will probably win a Pulitzer, but sometimes a left-wing agenda — or sometimes not so much an agenda but just a set of unexamined assumptions — can't help but peek through even in the best Times journalism. From the latest Times article, on the price of getting stitched up at a hospital emergency room:
The main reason for high hospital costs in the United States, economists say, is fiscal, not medical: Hospitals are the most powerful players in a health care system that has little or no price regulation in the private market.

Continue Reading
A front-page Times dispatch from London about Rebekah Brooks, a news executive "facing charges of illegally intercepting voice messages and other crimes in connection with their work for Mr. Murdoch's now-defunct News of the World tabloid" reports:
from appearances at least, she is a changed woman. Her clingy, look-at-me clothes have been replaced by functional skirts and blouses; she wears little makeup.

Continue Reading