The wave of Republican victories in yesterday's election have the New York Times, particularly its "Upshot" team of liberal-leaning opinion disguised as news, looking pretty foolish.
October 30: "Why Polls Tend to Undercount Democrats": "As Election Day nears, Democratic hopes increasingly hinge on the possibility that the polls will simply prove wrong. But that possibility is not far-fetched. The polls have generally underestimated Democrats in recent years, and there are reasons to think it could happen again."
October 31: "Early Voting Numbers Look Good For Democrats": "The turnout among black voters is particularly encouraging for Democrats...The figures are still good news for Democrats. The early-voting surge gives them a chance to pull off upsets in crucial states."

Continue Reading
A Times report about Michael Dell and his computer company is dismissive about Carl Icahn's achievements in intervening in Michael Dell's effort to take his computer company private:
The biggest roadblock was Mr. Icahn's demand for a higher price for his shares. After many shareholder votes and court challenges, Mr. Dell and his partners at the private equity firm Silver Lake raised their offer by a few pennies. But Mr. Icahn did not exactly bless the transaction.

Continue Reading

Times Columnist Headlines Fundraiser for Iranian-American Group

November 1, 2014 at 8:38 pm

A New York Times columnist, Roger Cohen, is scheduled to deliver a keynote address on November 15 at a California fundraiser for the National Iranian American Council, a group that advocates weakening American sanctions on Iran. An email from the group promoting the event carries the subject line "Join New York Times' Roger Cohen in Support of NIAC's Work!" and prominently features the New York Times logo.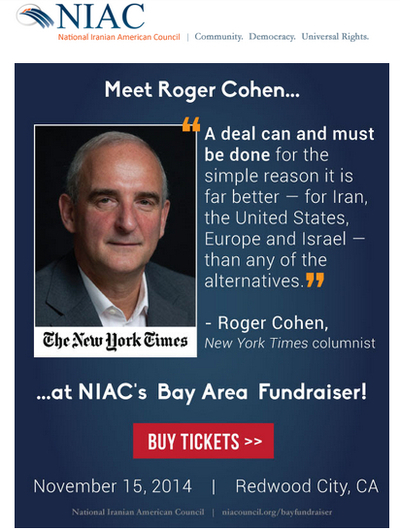 Continue Reading
A front-page news article in today's Times matter-of-factly reports, "At a time when the Obama administration is lurching from crisis to crisis — a looming Cold War in Europe, a brutal Islamic caliphate in the Middle East and a deadly epidemic in West Africa — it is not surprising that long-term strategy would take a back seat."
The Times' acknowledgment of the existence of "a brutal Islamic caliphate in the Middle East" sent me back to this "White House Letter" from the Times in 2005, reporting somewhat dismissively about Vice President Cheney and Secretary of Defense Rumsfeld's warnings of a caliphate:

Continue Reading
The New York Times is reportedly ceasing publication of its automobile section. That news must provide some satisfaction to Tesla chairman Elon Musk, who responded online to a negative review that his car got in the Times. Whatever one thinks of Tesla, it has outlasted the Times auto section.
The Times calls in Michael Roth, the president of Wesleyan University, to write a bizarre anti-Zionist book review:
Mr. Wolfe surveys important writers in the particularist and universalist traditions. He offers a stinging account of how casual but rancid bigotry has become an acceptable dimension for particularist Jewish writers committed to defending their own. Even with serious scholars like the Harvard professor Ruth R. Wisse and sensitive writers like Cynthia Ozick, Mr. Wolfe shows that empathy and principle evaporate into preening chauvinism and callous disregard for others.
If the Times is going to describe Ruth Wisse and Cynthia Ozick as bigots, fairness would dictate that they at least be given a chance to respond or defend themselves.

"Cuomo's and Christie's Shifts on Ebola are Criticized as Politics, Not Science," is the headline over a Times dispatch. An astute reader-watchdog-participant-community member-content co-creator observes: "You know where a newspaper stands on an issue whenever they accuse a politician of playing politics. In the case of Cuomo, I don't recall stories about Cuomo playing politics with medical marijuana, gay marriage and tax hikes."

Times Loses Fourth Top Woman Executive

October 29, 2014 at 9:35 am

Today's Times provides an update on the turmoil in its own upper management ranks. "Her Job Split in Two, Veteran Times Executive Opts To Leave" is the headline the paper hangs over its own story on the departure of Denise F. Warren. The article describes her as "the executive vice president for digital products" and "one of the New York Times Company's top executives."

Add her to the list of high-ranking Times women who have been forced out of the company or left on their own in recent years, including Jill Abramson, who was the executive editor; Vivian Schiller, who was senior vice president and general manager of NewYorkTimes.com; and Janet Robinson, who was CEO of the New York Times Company.

Continue Reading
David Brooks writes:
If you get outside the partisan boxes, there's a completely obvious agenda to create more middle-class, satisfying jobs. The federal government should borrow money at current interest rates to build infrastructure, including better bus networks so workers can get to distant jobs. The fact that the federal government has not passed major infrastructure legislation is mind-boggling, considering how much support there is from both parties.

Continue Reading

How Race and Poverty Affect Homicide Clearance Rates

October 24, 2014 at 9:49 am

"Unsolved Murders Prompt Outcry on Lack of Justice for the Poor," is the headline over a Times dispatch from Huntington Station, N.Y., reporting on four homicides: "Many who live here said the inertia in the cases proved that the authorities paid too little attention to solving crimes when the victims were poor or Hispanic or lived in the more economically hardscrabble parts of town."

Continue Reading
Heads up: I am about to criticize the Times for being unfairly critical of a Democratic politician, which may be surprising given my own center-right political leanings. In a news article about an appearance by Governor Andrew Cuomo and Vice President Biden, the Times reports that Mr. Biden "rambled on for 25 minutes about the importance of rebuilding the nation's infrastructure."

Continue Reading
As an aside in a music review of a performance conducted by John Adams, whose opera "The Death of Klinghoffer" has prompted protests, Times critic Anthony Tommasini writes, "Many of those incensed by the opera admit to never having seen it."
The use of the word "admit" suggests that Mr. Tommasini thinks there is something wrong with protesting an opera one has not seen. But the rule he seems to be propounding — than in order to protest something or be angry about it, one has to have viewed it — doesn't make much sense to me. It seems to me to be legitimate to oppose child pornography, for example, without having seen it. Or to be incensed by the beheading of American journalists by the Islamic State without having viewed the videos of the killings.
The New York Times coverage of Ebola has been erratic, as Twitter commentators have pointed out effectively. My former colleague Josh Gerstein notices a Times article that manages to describe the disease as "extremely infectious but also tremendously hard to catch."

Continue Reading
Paul Krugman's column is about a force in the book industry whose "power is really immense." He explains that "Book sales depend crucially on buzz and word of mouth (which is why authors are often sent on grueling book tours); you buy a book because you've heard about it, because other people are reading it, because it's a topic of conversation, because it's made the best-seller list." And he says that this force in the book industry, the one he is writing about, "possesses ... the power to kill the buzz."
The force that Professor Krugman is writing about is Amazon, and he calls for the federal government to break it up, or at least "curb its power," on antitrust grounds the way it did with Standard Oil.
But imagine if Professor Krugman's argument were applied to another "immense" power in the book industry — The New York Times itself.
Professor Krugman faults Amazon for its supposed "selectivity." He writes:

Continue Reading
For the price of $6,995, the New York Times is offering 13-day tours of Iran guided by Times journalist Elaine Sciolino. Promotional material for the tour on the Times website promises "luxurious hotels" and describes Tehran as a city where "the young and fashionable adopt a new trendy joie de vivre." Also on the itinerary: "a pleasant evening stroll around the colorful bazaars," along with insights into the "accomplishments" of the late Ayatollah Khomeini.
The U.S. Treasury Department website advises that notwithstanding the American economic sanctions on Iran, "All transactions ordinarily incident to travel to or from Iran, including the importation of accompanied baggage for personal use, payment of maintenance and living expenses and acquisition of goods or services for personal use are permitted."

Continue Reading