Toward the bottom of a front-page New York Times article about the New York Philharmonic Orchestra's plan to rename Avery Fisher Hall comes this:
An architect for the new hall has yet to be selected. Although the Philharmonic board voted in 2005 to proceed with a design by the British architect Norman Foster, the thinking has evolved since then, and the orchestra is starting over.
This Times article doesn't mention it, but some readers may remember a dispatch back in May about the New York Public Library's decision to abandon a plan for a major renovation of its flagship building at Fifth Avenue and 42nd St.:
This shift is something of a defeat for the library, which had already paid the British architect Norman Foster $9 million in private funds for his firm's work on the plan for the flagship, a 1911 Beaux-Arts landmark.

Continue Reading
The "Deal Professor" column in the Times about Sears Holdings, has many problems. One is that it inaccurately describes Fairholme Capital as "another hedge fund." As I understand it, Fairholme has a small hedge fund but is primarily a mutual fund manager.
Business reporter Michael de la Merced has apparently been released from his extensive public-service journalism responsibilities on the Kenneth Griffin divorce beat for long enough to write a ridiculous article smearing Sears Holdings for an announcement that sent the company's stock soaring 31% on Friday.
Wrote Mr. de la Merced in the Times:
On Friday, the struggling retailer unveiled yet another unusual financial maneuver that it may employ: selling some of its stores to a new real estate investment trust...

Continue Reading
From a front-page news article in the Times about participation by big philanthropic foundations in an effort to assist Detroit through bankruptcy proceedings:
In the fall of 2013, Mariam Noland, the president of the Detroit-based Community Foundation for Southeast Michigan, ran into Judge Rosen in a deli near the courthouse. She said she had heard that he was working on the city's bankruptcy case, and offered, somewhat offhandedly, her help. Not long after, Judge Rosen called. He asked her to call foundation leaders and invite them to Detroit for a meeting.
The Times doesn't get into the question of whether it was appropriate for Ms. Noland to approach a judge in a deli to talk about a case in which the judge was involved.
From an article in the N.Y/Region section of the Times from the same day:

Continue Reading
Is Palestinian Arab unrest in Jerusalem the sign of a third Intifada, or uprising? The Times' answer to this question apparently depends on what time of day you look at the paper's website. The useful site NewsDiffs.org tracks how, over the course of the day, the Times changed the headline over pretty much the same news article, from "Few See New Palestinian Intifada in Jerusalem Unrest" to "In Jerusalem Unrest, Signs of a 'Run-Over Intifada' for the 21st Century." It would be nice for the many readers who saw the first headline on the Times home page during the day to get some notification or explanation of why it was changed. Did it become inaccurate?
Times columnist Roger Cohen's announced keynote appearance at a fundraiser for the National Iranian American Council, which supports weakening American sanctions on Iran, has been canceled, Ron Radosh reports at PJM. We had highlighted the scheduled appearance in a post here.
Add another gem to yesterday's list of pre-election stories that make the Times look foolish:
October 27: Headline: "Democrats Seem Poised to Pick Up a Few Governor's Seats."
In fact, the Republicans are the ones who increased their number of governors seats, to at least 32 from 29 going in to the election.
Is it any accident that all of the stories in this series are from "The Upshot," the new "data-driven" (ha!) Times liberal opinion section masquerading as news?
Thanks to reader-participant-community member-watchdog-content co-creator J. for sending the tip.
The wave of Republican victories in yesterday's election have the New York Times, particularly its "Upshot" team of liberal-leaning opinion disguised as news, looking pretty foolish.
October 30: "Why Polls Tend to Undercount Democrats": "As Election Day nears, Democratic hopes increasingly hinge on the possibility that the polls will simply prove wrong. But that possibility is not far-fetched. The polls have generally underestimated Democrats in recent years, and there are reasons to think it could happen again."
October 31: "Early Voting Numbers Look Good For Democrats": "The turnout among black voters is particularly encouraging for Democrats...The figures are still good news for Democrats. The early-voting surge gives them a chance to pull off upsets in crucial states."

Continue Reading
A Times report about Michael Dell and his computer company is dismissive about Carl Icahn's achievements in intervening in Michael Dell's effort to take his computer company private:
The biggest roadblock was Mr. Icahn's demand for a higher price for his shares. After many shareholder votes and court challenges, Mr. Dell and his partners at the private equity firm Silver Lake raised their offer by a few pennies. But Mr. Icahn did not exactly bless the transaction.

Continue Reading

Times Columnist Headlines Fundraiser for Iranian-American Group

November 1, 2014 at 8:38 pm

A New York Times columnist, Roger Cohen, is scheduled to deliver a keynote address on November 15 at a California fundraiser for the National Iranian American Council, a group that advocates weakening American sanctions on Iran. An email from the group promoting the event carries the subject line "Join New York Times' Roger Cohen in Support of NIAC's Work!" and prominently features the New York Times logo.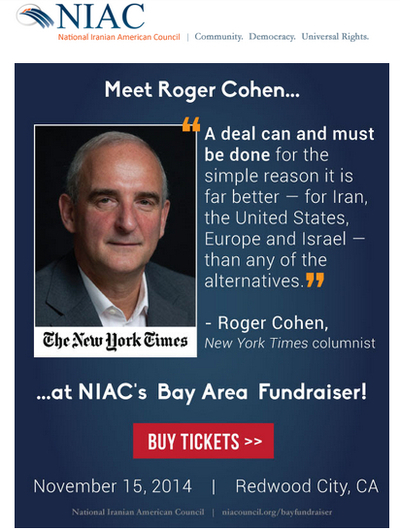 Continue Reading
A front-page news article in today's Times matter-of-factly reports, "At a time when the Obama administration is lurching from crisis to crisis — a looming Cold War in Europe, a brutal Islamic caliphate in the Middle East and a deadly epidemic in West Africa — it is not surprising that long-term strategy would take a back seat."
The Times' acknowledgment of the existence of "a brutal Islamic caliphate in the Middle East" sent me back to this "White House Letter" from the Times in 2005, reporting somewhat dismissively about Vice President Cheney and Secretary of Defense Rumsfeld's warnings of a caliphate:

Continue Reading
The New York Times is reportedly ceasing publication of its automobile section. That news must provide some satisfaction to Tesla chairman Elon Musk, who responded online to a negative review that his car got in the Times. Whatever one thinks of Tesla, it has outlasted the Times auto section.
The Times calls in Michael Roth, the president of Wesleyan University, to write a bizarre anti-Zionist book review:
Mr. Wolfe surveys important writers in the particularist and universalist traditions. He offers a stinging account of how casual but rancid bigotry has become an acceptable dimension for particularist Jewish writers committed to defending their own. Even with serious scholars like the Harvard professor Ruth R. Wisse and sensitive writers like Cynthia Ozick, Mr. Wolfe shows that empathy and principle evaporate into preening chauvinism and callous disregard for others.
If the Times is going to describe Ruth Wisse and Cynthia Ozick as bigots, fairness would dictate that they at least be given a chance to respond or defend themselves.

"Cuomo's and Christie's Shifts on Ebola are Criticized as Politics, Not Science," is the headline over a Times dispatch. An astute reader-watchdog-participant-community member-content co-creator observes: "You know where a newspaper stands on an issue whenever they accuse a politician of playing politics. In the case of Cuomo, I don't recall stories about Cuomo playing politics with medical marijuana, gay marriage and tax hikes."

Times Loses Fourth Top Woman Executive

October 29, 2014 at 9:35 am

Today's Times provides an update on the turmoil in its own upper management ranks. "Her Job Split in Two, Veteran Times Executive Opts To Leave" is the headline the paper hangs over its own story on the departure of Denise F. Warren. The article describes her as "the executive vice president for digital products" and "one of the New York Times Company's top executives."

Add her to the list of high-ranking Times women who have been forced out of the company or left on their own in recent years, including Jill Abramson, who was the executive editor; Vivian Schiller, who was senior vice president and general manager of NewYorkTimes.com; and Janet Robinson, who was CEO of the New York Times Company.

Continue Reading