An article in the Thursday Style section reports:
In the 1990s, ABC Carpet on lower Broadway ushered in its own major rug trend, selling Orientals that had been dyed in bright colors like pink, blue, red or silver. Seemingly every well-off woman who instructed her hairdresser to give her the "Jennifer Aniston" had one.

But ubiquity has a way of creating openings for new things to come along. Or as Ryan Korban, the design guru to the fashion designers Alexander Wang and Joseph Altuzarra, put it: "ABC carpet hasn't changed substantially in 10 years. Tell me you don't agree with me. It's the same chairs and the same rugs as they had when I was in college. There's only so many times you can go to the same place and look at the same kind of stuff."

Continue Reading

Trump's 'War' on Law Enforcement

February 4, 2018 at 1:06 pm

A front-page New York Times "news analysis" article carries the online headline "Trump's Unparalleled War on a Pillar of Society: Law Enforcement." The promotional language for the story claims "President Trump has raised fears that he is tearing at the credibility of some of the most important institutions in American life to save himself."

This is precisely the sort of thing that erodes the Times' credibility. The Times article claims "The war between the president and the nation's law enforcement apparatus is unlike anything America has seen in modern times....the president has engaged in a scorched-earth assault on the pillars of the criminal justice system in a way that no other occupant of the White House has done."

Continue Reading
The photo shows a partial page from the New York Times.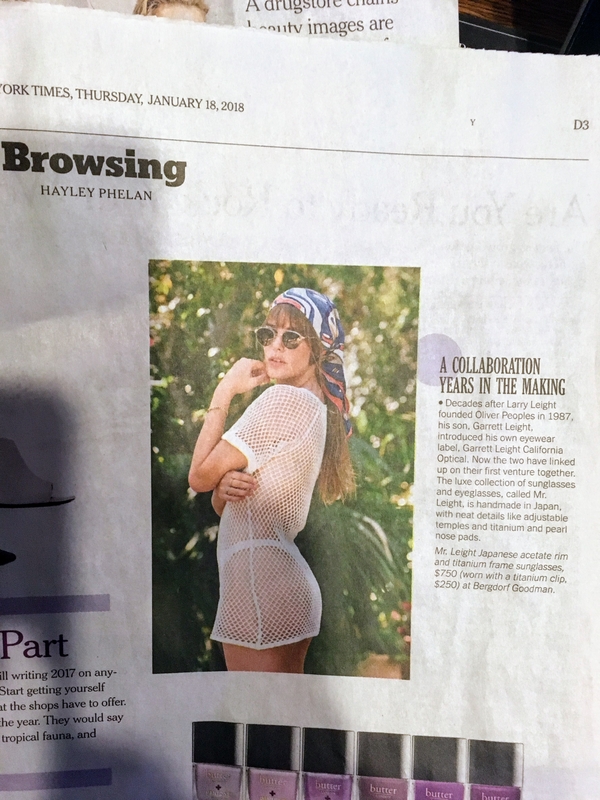 It's a shopping column about sunglasses for sale at Bergdorf Goodman. The Times illustrates the column with a photo showing not only the sunglasses but a woman in some kind of beach coverup that doesn't cover up that much. The Times doesn't say who took the photo — is it the work of the Times itself, or some sort of publicity handout? Either way, it seemed sort of odd, as if the Times somehow couldn't, or did not want to, find a way to write about the sunglasses without also publishing this picture.

Continue Reading
A regular feature in the Times involves the newspaper interviewing its own employees about their use of technology. The latest installment, with the Times "Andes bureau chief," Nicholas Casey, includes this passage:
Beyond your job, what tech product are you currently obsessed with using in your daily life?

Netflix. There seem to be 10 times more offerings in Latin America than the United States, including many movies that are blocked back home and that I can only rent on iTunes. I would urge anyone who wants to spend days watching good films not available in America to set his or her VPN to Colombia and have a look.

Continue Reading
One of the funnier aspects of media bias is the way that publications adjust the labels that they hurl at politicians or academics depending on the publication's agenda at a given time.
An article in today's New York Times, for example, reports, "After the tax vote, House Speaker Paul D. Ryan canceled plans to raise money for a centrist New York Republican as punishment for opposition to the tax bill, a response that penalizes a member of the speaker's party just when help is most needed to win re-election."

Continue Reading

Crime Is Falling, But Police Levels Remain Robust

January 8, 2018 at 9:09 am

A candidate for James Taranto's "Fox Butterfield" effect award is this New York Times news article, which appeared under the print headline, "Crime Is Falling, But Police Levels Remain Robust."

As the article itself concedes, "hardly anyone questions the size of police forces." Hardly anyone, that is, besides the New York Times.

The article is by Jose A. Del Real, whose LinkedIn bio describes him as a 2013 graduate of Harvard.

Newspapers exist in part to raise questions that "hardly anyone" is asking. But readers might be a bit less skeptical of the Times enthusiasm for shrinking the unionized government workforce if the enthusiasm extended beyond the police to other areas.

Continue Reading

A.G. Sulzberger Stumbles at the Start

January 1, 2018 at 7:03 pm

The newly installed publisher of the Times, A.G. Sulzberger, is out with "A Note From Our New Publisher" that suggests that maybe he might want to, you know, re-read the First Amendment before he spends much more time out in public on his new job. The "note" contains this doozy:
There was a reason freedom of speech and freedom of the press were placed first among our essential rights. Our founders understood that the free exchange of ideas and the ability to hold power to account were prerequisites for a successful democracy.
Uh, sorry to break it to you, Mr. Sulzberger, but there is no accurate count by which "freedom of speech and freedom of the press were placed first among our essential rights."

Continue Reading
Under the print headline "Labor Unions Gain Foothold At News Sites," my edition of the New York Times reported, "Members of the news staffs at Vice Media, ThinkProgress and HuffPost followed suit, organizing unions that their companies recognized and that subsequently ratified contracts."
I raised my eyebrows at the Times description of ThinkProgress as a "News Site" with a "news staff." Without appending a formal correction, the online version of the story carries a different headline: "Unions Are Gaining a Foothold at Digital Media Companies." And in the text of the article itself, the word "news" has been changed, so that the sentence that caused me to raise an eyebrow now reads: "Members of the editorial staffs at Vice Media, ThinkProgress and HuffPost followed suit, organizing unions that their companies recognized and that subsequently ratified contracts."

Continue Reading
Is it just me, or is there a double standard in how the Times covers inherited wealth in its own family business versus how it covers it in other families — like, say the president's family real estate business?
Here is a Timothy Egan column dated December 15, from the Times op-ed page:
Do entitled rich kids who would otherwise be parking cars without Daddy's help — think Donald Trump Jr. and his brother Eric — deserve to inherit a vast estate without paying taxes on their unearned largess?
It's a rhetorical question, and you can probably guess Egan's answer from the way he phrased the question.
Here is a Jim Rutenberg column dated December 24, from the Times business section:

Continue Reading

Trump and the Stock Market, Again

December 20, 2017 at 9:56 am

One of the most crucial tasks of a news organization in the Trump era is explaining what's unusual and what's not unusual. The New York Times has a major fail on that front in today's paper, with a news article by Michael Tackett. It begins:
WASHINGTON — President Trump has broken with many of the norms set by his predecessors, but in few ways has this been clearer than his cheerleading about the roaring stock market.

He is the unapologetic First Bull.

He has crowed about the stock market at least once a week for the past two months. In two Twitter messages early Tuesday morning, the president cited a 5,000-point rise in the Dow Jones industrial average this year, and then said the market had more room to roar once the impact of tax legislation he is expected to sign this week becomes law.

Continue Reading

Ten Ways The Times Jerusalem Editorial Got It Wrong

December 19, 2017 at 10:14 am

"Ten Ways The New York Times Jerusalem Editorial Got It Wrong" is the headline over my latest piece for the Algemeiner, which you can read here.

The lead business story in today's New York Times reports that Judge William Alsup of Federal District Court in San Francisco "accused Uber's lawyers of withholding evidence, forcing him to delay the trial":
"I can no longer trust the words of the lawyers for Uber in this case," Judge Alsup said. "If even half of what is in that letter is true, it would be an injustice for Waymo to go to trial."
Today's Times article does not specify what lawyer Judge Alsup was talking about. It doesn't name the lawyer or the law firm.
An August Times article did a better job:
"You misled the judge time and time again," Judge Alsup told Arturo González, Uber's outside counsel from the law firm Morrison & Foerster.

Continue Reading
A nasty piece in the Times by Jonah Engel Bromwich runs under the headline "Liz Smith's Complicated Relationship With the Closet." It posthumously faults a journalist for being what the Times deems to be insufficiently public about her sexual orientation. Mr. Bromwich writes:
At the height of her influence, in the 1980s and early '90s, Ms. Smith covered for still-closeted celebrities like Malcolm Forbes and promoted conservative socialites like Pat Buckley, whose husband, William F. Buckley Jr., the editor of National Review, had written that people with AIDS should be tattooed.
For those reasons, she came under fire by the columnist Michelangelo Signorile, who during the run of the magazine OutWeek named and shamed closeted gay celebrities whom he saw as hypocrites in the midst of a deadly pandemic.

Continue Reading

Bad Advice on Snowblowers, Generators, and Apples

November 16, 2017 at 10:17 am

Since the news business alone doesn't seem to be making enough money to keep New York Times owner Carlos Slim satisfied, the company has been expanding into other areas, like giving advice.

Page A3 of my November 16, 2017, New York Times, under the headline, "Here to Help: Home Maintenance Tips For The Winter, includes the following on how to "make sure your home is prepared for the harsh weather": "Make sure your snow blower is in good working order before it snows. You do not want to be caught in the first major storm with only an orange shovel to dig yourself out."

Continue Reading
Andrew Ross Sorkin's New York Times column last week ran under the headline "How Valuable Is a Unicorn? Maybe Not as Much as It Claims to Be." It reported that eye-popping valuation for venture-capital-backed companies "may be a bit of myth — or perhaps wishful thinking." Citing Stanford research, it warned that the "headline" valuations were tricking people.
On the front of today's Times business section is an article about BuzzFeed building a movie studio in Southern California. In passing, the Times reports, "BuzzFeed, which is now valued at about $1.7 billion." No caveats about dilution or special terms for some investors or how that number may be a myth, a trick, or wishful thinking. It's almost enough to make one wonder whether the reporter of the BuzzFeed story, Sydney Ember, or her editor even bothered to read Sorkin's column, or, if they did, whether they took it seriously.