The print New York Times greets "Black Friday" with a printed gift guide claiming inaccurately that the price of a Le Creuset Dutch oven is $77.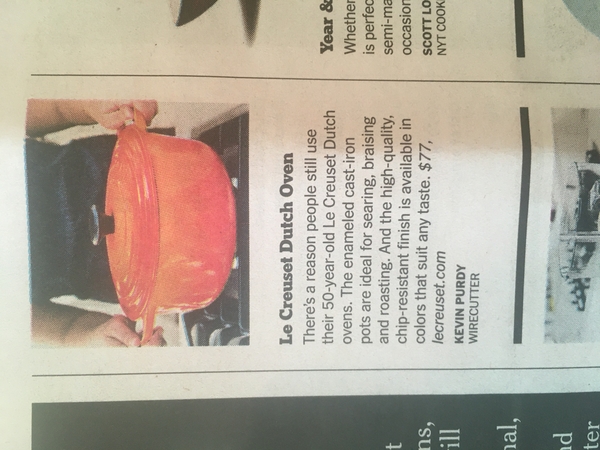 It's almost enough to make a reader think that the gift guide is being edited by someone who hasn't shopped for a Dutch oven. I thought maybe this was a typo and someone had just left off a digit—maybe the price is $377, or $277. But the lecreuset.com website that the Times cites has the prices all ending in round numbers — $325, $200, etc.
I get asked sometimes why I bother with what seem like tiny mistakes. In my view the Times carelessness about accuracy runs through the paper, from the gift guide to coverage of Israeli settlements and international law. It's a strange combination of arrogance and incompetence. The Times is constantly bragging about the size of its newsroom, including, earlier this month, in a letter to home delivery subscribers announcing a price increase: "Last year that meant we put 1,600 journalists on the ground in 160 countries, bearing witness to conflict and disasters, investigating brutal regimes and shining a light on human suffering that would otherwise go unnoticed." With all those journalists, you'd think they'd have enough people to accurately report the price of a Dutch oven, or the history of American policy and the international law of Israeli settlements in the West Bank.